BLAKE SHELTON JOINS BELLAMY BROTHERS ON "HONKY TONK RANCH" THIS WEEKEND
NASHVILLE, Tenn. – Viewers will get a behind-the-scenes look at the "Friends & Heroes 2019" tour as country music superstar Blake Shelton joins David and Howard Bellamy on their hit reality series "Honky Tonk Ranch" this weekend. Blake Shelton's episode of "Honky Tonk Ranch" will air this Sunday at 8:30 p.m. ET on the The Cowboy Channel.
During this week's episode of "Honky Tonk Ranch" the Bellamy Brothers perform their hits "Let Your Love Flow" and "Redneck Girl" to sold-out crowds on the "Friends & Heroes 2019" tour. A friendly competition breaks out between tour-mates Lauren Alaina and Blake Shelton with the brothers during a game of beer pong.
Season 2 of "Honky Tonk Ranch" has featured a slew of legendary country stars and friends of the Bellamy Brothers including Tanya Tucker, Eddy Raven, Billy Dean, Joe Diffie, Johnny Lee, Kelly Lang, Shenandoah, Deborah Allen and The Tennessee Werewolves.  "Honky Tonk Ranch" remains the highest rated show on The Cowboy Channel network as well as the most requested streaming show through Rural Media Group in 66 countries through the on-demand service of The Country Club, available worldwide at rfdcc.com/bellamybrothers. Fans who purchase three months of RFD-TV's The Country Club, at $10 a month, receive a fourth month free by entering the code: HonkyTonk.
Between filming season two of their hit reality series "Honky Tonk Ranch" and touring with Blake Shelton, Bellamy Brothers' found time to record fourteen all-new tracks for their album, Over The Moon. The album was produced by David and Howard Bellamy along with Randy Hiebert, and recorded at Bellamy Brothers Studio in Darby, Florida.
The first single released from Over The Moon, "If You Ever Leave," landed national attention with a premiere of the song's video on Billboard.
To keep up with this on-the-move-duo, you can follow the Bellamy Brothers on Twitter, Facebook, Instagram or visit BellamyBrothers.com. For the full program schedule and more information about The Cowboy Channel, visit TheCowboyChannel.com.
2019 EUROPEAN TOUR DATES
June 29 26th Annual Trucker and Country Festival - Interlaken, Switzerland
Aug. 24 Yesterdayland at Bobbejaanland - Lichtaart, Belgium
Aug. 30 Country at the Castle Kimbolton Castle Grounds - Cambridgeshire, U.K.
Sept. 01 "An Intimate Evening with The Bellamy Brothers Pop-up Concert" (Details to be announced July 01)
Sept. 04 Freihetishalle - Hof, Germany
Sept. 07 Lofoten Country Festival - Leknes, Norway
Oct. 01 Grieghallen - Bergen, Norway
Oct. 02 Kilden - Kristiansand, Norway
Oct. 03 Kuppelhallen - Stavanger, Norway
Oct. 04 Konserthus - Oslo, Norway
Oct. 05 Maihaugsalen - Lilehammer, Norway
Oct. 06 Olavshallen - Trondheim, Norway
Oct. 08 Nojesteatern - Malmo, Sweden
Oct. 09 Lisebergsteatern - Goteburg, Sweden
Oct. 10 Circus Skandjascenen - Stockholm, Sweden
Oct. 11 Konserthuset - Gavle, Sweden
BELLAMY BROTHERS ON TOUR
May 02 Moore's Store - Ben Wheeler, Texas
May 03 Red Rooster Icehouse - Hawkins, Texas
May 04 Tilden Lions Club Arena - Tilden, Texas
May 07 Yates Memorial Centre/Sterndale Bennett Theatre - Lethbridge, Canada
May 08 Westerner Park-Exhibition Hall - Red Deer, Canada
May 09 TCU Place - Saskatoon, Canada
May 10 Club Regent Casino - Winnipeg, Canada
May 11 Casino Regina Show Lounge - Regina, Canada
May 17 Victoria Community Center - Victoria, Texas
May 18 Private Show
May 30 The Barnhill Center At Historic Simon Theatre – Brenham, Texas
May 31 Redneck Country Club - Stafford, Texas
June 01 Crighton Theatre Sounds of Texas Music Series - Conroe Texas
June 06 - Steiner Ranch Steakhouse - Austin, Texas
June 07 V8 Ranch Summer Soiree - Wharton, Texas
June 08 Twisted J. Live - Stephenville, Texas
June 09 Spencer Theater for the Performing Arts - Alto, N.M.
June 13 Putters & Gutters - Lampasas, Texas
June 14 Buck's Backyard - Buda, Texas
June 15 The Coyote Country Store - Gail, Texas
June 20 Crossroads Arena - Corinth, Miss.
June 21 Golden Nugget - Lake Charles, La.
June 22 IP Casino Resort & Spa - Biloxi, Miss.
July 12 Private Show
July 13 Balsam Valley Amphitheater - Columbia Falls, Maine
July 17 Liberty Hall - Tyler, Texas
July 18 Waco Hippodrome Theatre - Waco, Texas
July 19 Wagner Noel Performing Arts Center - Midland, Texas
July 20 House Pasture Cattle Co. - Concan, Texas
July 26 Deadwood Mountain Grand - Deadwood, S.D.
July 27 Silver Spur Summer Concert Series - Ft. Pierre, S.D.
July 28 Sisseton Performing Arts Center – Sisseton, S.D.
Aug. 02 XIT Rodeo/Dance Rita Blanca Coliseum - Dalhart, Texas
Aug. 03 Decatur Arkansas Bar-B-Que Festival Veterans Park - Decatur, Ark.
Aug. 07 Sunbelt Boulder Bash - Grapevine, Texas
Aug. 09 Bannock County Fair - Downey, Idaho
Aug. 10 Cache County Fair & Rodeo – Logan, Utah
Aug 13 Sportsman's Backyard – Lake City, Colo.
Aug. 15 Boomtown Hotel & Casino - Reno, Nev.
Aug. 16 Sandy City Amphitheater - Sandy, Utah
Aug. 17 Montana Cowboy Poetry Gathering & Western Music Rendezvous Fergus Performing Arts Center - Lewistown, Mont.
Sep. 12 Krider Performing Arts Center – Paris, Tenn.
Sep. 13 Landfest In The Mountains 2019 Anderson Music Hall - Hiawassee, Ga.
Sep. 14 Renfro Valley Entertainment Center - Mt. Vernon, Ky.
Sep. 19 Steiner Steakhouse - Austin, Texas
Sept. 20 "Fowler Fest" – John T. Floores Country Store – Helotes, Texas
Sep. 21 Mabank Jubilee-BBQ Cookoff Festival Expo Pavilion - Mabank, Texas
Sep. 22 Private
Sep. 27 Hardtail's Bar & Grill - Georgetown, Texas
Sep. 28 4-H Country Hoedown - Mission, Texas
Oct. 18 Rattlesnake Festival 2019 Dan Cannon Auditorium - Dade City, Fla.
Oct. 19 Andy Griffith Playhouse - Mount Airy, N.C.
Oct. 25 Billy Bob's Texas - Forth Worth, Texas
Oct. 26 The Mansion Theatre - Branson, Mo.
Nov. 02 Sugar Creek Casino - Hinton, Okla.
Nov. 08 Peppermill Casino - West Wendover, Nev.
Nov. 09 Rava Winery - Paso Robles, California
Nov. 15 Golden Nugget Biloxi – Biloxi, Miss.
Nov. 16 Crockett Civic Center / Piney Woods Fine Arts - Crockett, Texas
Nov. 21 Private - Trilby, Fla.
Nov. 22 Liberty Showcase Theatre – Liberty, N.C.
Nov. 23 Red Barn Convention Center – Winchester, Ohio
Nov. 29 Main Street Crossing - Tomball, Texas
Nov. 30 Main Street Crossing - Tomball, Texas
Dec. 06 Grandbury Live Theatre - Grandbury, Texas
Dec. 07 Old Coupland Inn - Coupland, Texas
Dec. 13 The Beaumont Event & Concert Hall – Wayne, Neb.
Dec. 14 Meskwaki Bingo Casino Hotel Veterans Memorial Convention Center - Tama, Iowa
ABOUT BELLAMY BROTHERS
Howard and David continue to prove that the trail they've ridden to fame has been as unique as their music itself—music that is now celebrating more than 40 years of success. The road that started on the pop music charts in the '70's, took a winding turn into country music in the '80's, paving the way for duos to come, such as Brooks & Dunn, Montgomery Gentry, Big & Rich and The Judds. "If I Said You Had A Beautiful Body (Would You Hold It Against Me)," originally scrawled on a dinner napkin by David, rocketed them to the top of the country charts the way "Let Your Love Flow," had done in the pop market just a few years earlier. It proved to be the first of a string of 14 No. 1 singles in the U.S. alone. They're the only U.S. country music act who've toured in India, Sri Lanka, New Caledonia and Qatar. The Bellamy Brothers hold the record in both the Academy of Country Music (ACM) and the Country Music Association Awards (CMA) for the most duo nominations. Numerous Grammy nods have also been directed toward the brothers. The Bellamys are also opening up their lives to television audiences with their new reality show, "Honky Tonk Ranch." Each episode of "Honky Tonk Ranch" captivates viewers by the unpredictable misadventures the Bellamys face while balancing their globe-trotting touring schedule while running their sprawling family ranch in south Florida. "Honky Tonk Ranch" is executive produced by David Bellamy and directed, shot and edited by Derrek Kupish, CEO/founder of dkupish productions. "Honky Tonk Ranch" airs Sundays at 8:30 p.m. ET / 7:30 p.m. CT on The Cowboy Channel.
RECOMMENDED TWEET:
.@BlakeShelton & @LaurenAlaina join @BellamyBrothers on #HonkyTonkRanch this weekend!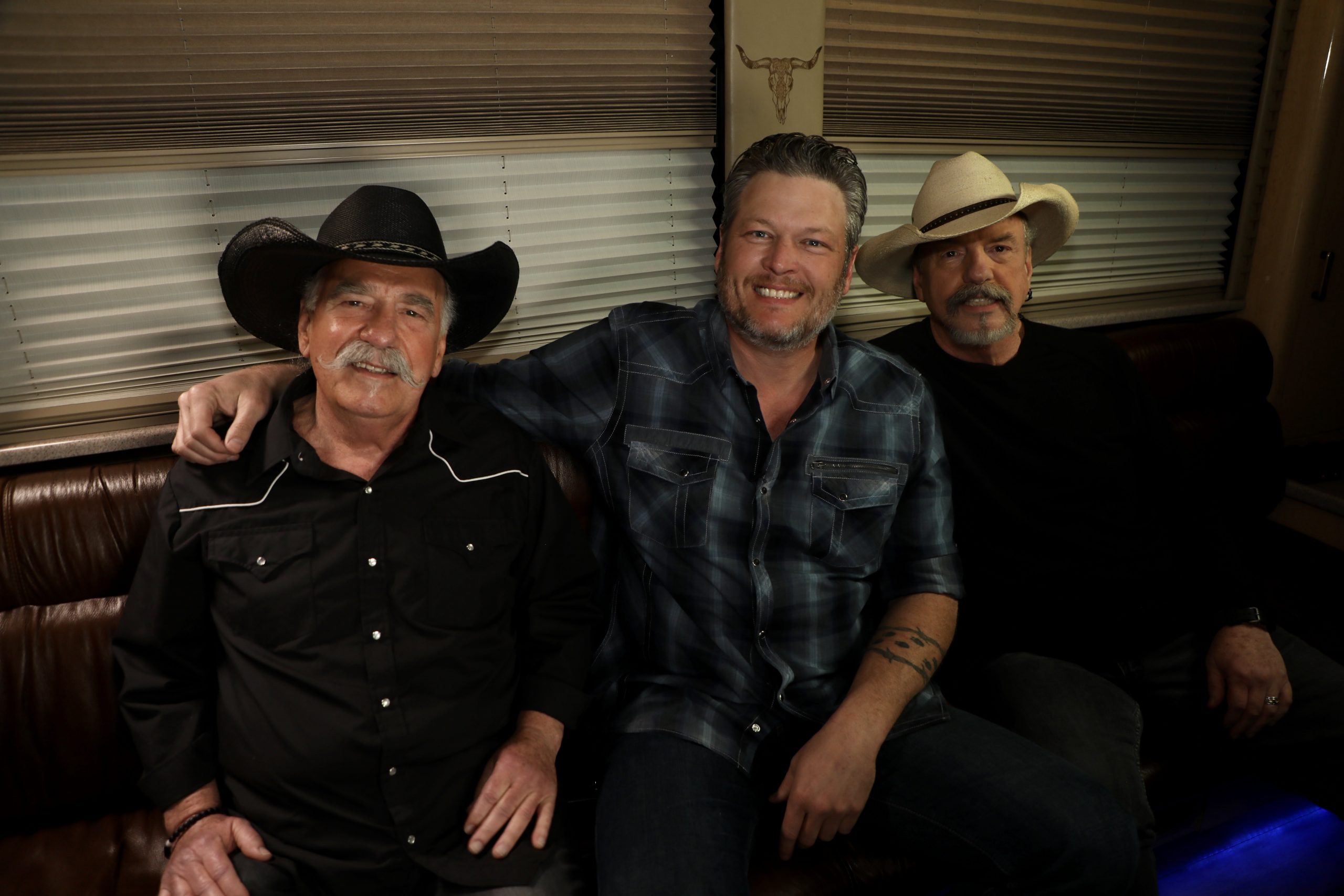 (L-R Howard Bellamy, Blake Shelton and David Bellamy) (Photo Credit: Derrek Kupish / dkupish productions)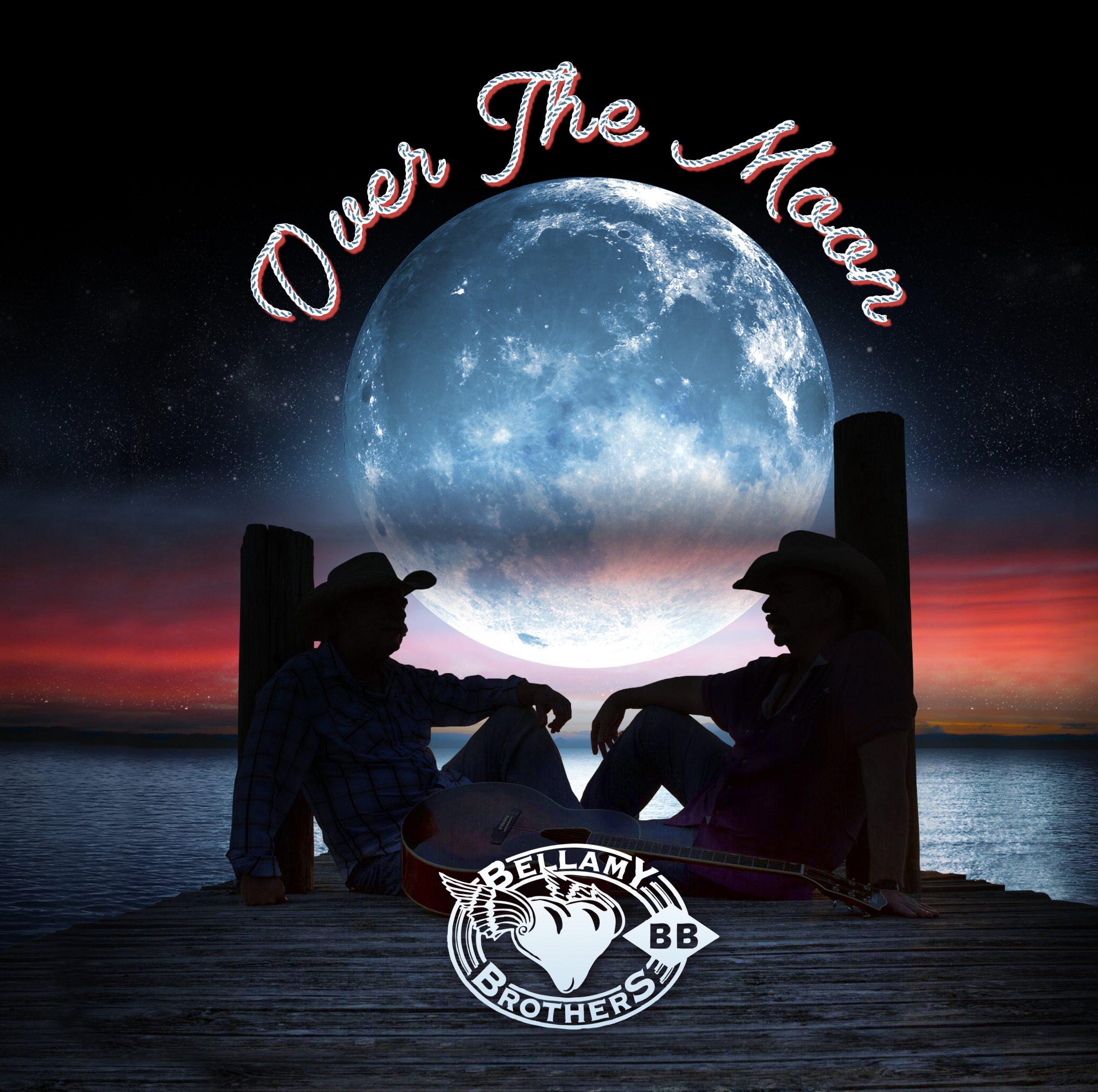 Over The Moon Cover